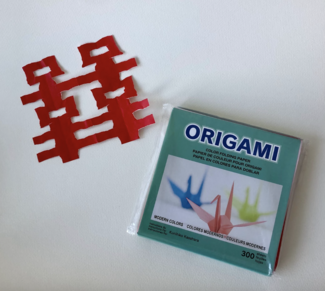 This interpretation of the Double Happiness symbol is an example of torn papercutting demonstrated by artist Béatrice Coron during her presentation Art in 1000 Cuts: The Path of the Blade on October 21, 2022 at the Standards of Excellence Seminar in Decatur, Georgia.  The listing also includes a pack of origami paper that can be used for experiments in papercutting or paper engineering.
Proceeds from the sale of this item will be added to the 2023 Standards scholarship fund.
Artist's bio: BÉATRICE CORON collects many stories. Born and raised in France, she was a city dweller, a shepherdess and truck driver among others, then she worked in tourism and lived in Egypt and Mexico for one year each and two years in China. She moved to New York where she launched her career as an artist in 1984. All these places left their mark on her thoughts and her art. She explores visual storytelling in artist books, paper cutting and public art. Rather than leaving an expression for another, her work makes artist books for the viewer to step in, or fine arts with theatrical methods. Coron favors an expression that would englobe all her creative instincts rather than separate. She creates environments for words and thoughts inviting the public to wonder, ponder, and discover a poetic vision. To learn more, please visit https://www.beatricecoron.com.