AbeCedarium
An Exhibit of Alphabet Books
---
Ras Shamra Abecedary
5 x 3 1/2 x 5/8 inches
The paper was handmade by the artist, using recycled Mohawk Superfine and abaca. It was sewn with linen thread onto hemp cords. Images are block printed alphabetic characters in the lost language Ugaritic, which was the first alphabetic cuneiform language discovered. 1998.
A Box Containing Dreams...
5 x 5 x 4 inches
The pyramid box, made of binder board, is covered with moriki paper and textured acrylics. Origami-folded pages representing alphabetical dreams are tyvek, with acrylic paste painting, collages of found images and pages from dictionaries. 1998.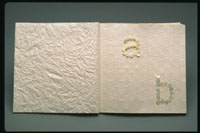 Cathy Atwood
Jefferson City, Mo
Button Book
9 1/4 x 10 x 1 3/4 inches
A traditional Japanese side-sewn book with crushed kozo paper covers and endpapers. The first four letters of the alphabet are embroidered with silk floss on the cover. The pages are woven kozo with the alphabet letters of antique mother-of-pearl buttons sewn with silk threads. 1998.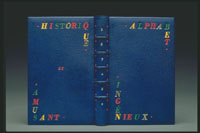 Nicole Billard
Brossard, Quebec, Canada
Alphabet Ingénieux Historique et Amusant pour les Jeunes Enfants
6 3/4 x 4 1/2 x 3/4 inches
Children's book from 1774 bound in full blue French chagrin, foil-tooled on both covers. French-style binding with feather- marbled endpapers and blue, yellow, green and red silk endbands. 1998.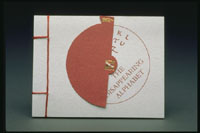 Barbara B. Blumenthal
Northampton, MA
The Disappearing Alphabet by Richard Wilbur
Published by Catawba Press
3 1/2 x 4 1/2 x 3/8 inches
The cover has a volvelle (revolving wheel) and gold stamped ornaments and is sewn with linen thread. In flip-book format, the book has cotton embroidery thread and Japanese-style sewing. Papers of Mohawk Vellum have a vanishing calligraphic alphabet to echo Wilbur's verses on the consequences of disappearing letters. Edition of 126. 1998.
Alphabet Book
Bloodroot Press Jean Buescher, illustrator and binder
Digger Pine Press Alan Hillesheim, letterpress printer
6 1/2 x 3 1/8 x 1 inches
German Ingres covered boards have an inlaid letterpress label and exposed longstitch sewing, cloth spine. The Rives text papers are illustrated with original gouache paintings and letterpress-printed in twenty-seven typefaces. 1998.
Alphabet
4 x 5 x 1/2 inches
A full leather binding of green oasis goatskin with decorative leather onlays and inlays and with blind tooling on covers and spine. The sewing is on four raised cords with paste paper doublures, endpapers by the binder and silk endbands. The Hahnemühle Biblio text papers have linoleum-cut letters drawn and printed by the binder. Edition of 17. 1998.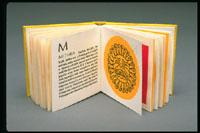 Carol Cunningham
Mill Valley, CA
The Sun An Alphabet
2 7/8 x 2 7/8 x 1/2 inches
The book has paper covers over boards with labels. The sewn signatures of shadow-mould paper, have letterpress printing, gocco-printed images, color copies of photos, and linoleum and zinc cuts. 1998.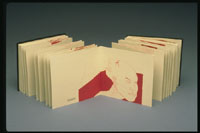 Thorsten Dennerline
Kansas City, MO
Twenty-Six Words
5 1/4 x 5 3/4 x 1 7/8 inches
The cover boards are edged in oasis and have inlaid original acrylic paintings. The text is letterpress-printed on a concertina of Rives BFK paper and has lithographic images. Edition of 10. 1998. See also Peter D. Verheyen's binding of this book or view the entire book online.
ABC
4 3/8 x 2 7/8 x 1/2 inches
An accordion book made of one sheet of Mohawk Superfine cover stock, which when folded includes it's own covers. Edition of 6. 1998.
---