AbeCedarium
An Exhibit of Alphabet Books
---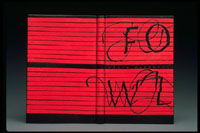 Don Etherington
Summerfield, NC
A Fowl Alphabet, Cheloniidae Press, 1986
8 1/2 x 5 1/2 x 3/4 inches
A full leather binding of black goatskin with onlays of red goatskin and black calf; blind tooling. The text is twenty-six wood engravings by Alan James Robinson with calligraphy by Suzanne Moore. 1998.
A Hatphabet by Frank J. Anderson
2 3/8 x 31/8 x 2 1/2 inches
A multi-color goatskin box houses the concertina pages sewn onto another concertina book with silk thread and assorted Japanese decorative papers. 1998.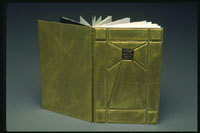 Madelyn Garrett / Christopher Warnock
Salt Lake City, UT
Of the Just Shaping of Letters by Albrecht Dürer
12 x 7 3/4 x 1/2 inches
The covers are paper with gilt, onlays and bead embroidery. The pages are Fabriano Ingres, sewn in a link-stitch structure. The 1543 edition was scanned and imposed in Adobe Illustrator by Christopher Warnock. 1998.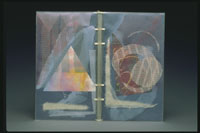 Donald Glaister
Tuscaloosa, AL
Letter Lines, An Alphabetical Praise Song by Wynne Busby
12 x 6 7/8 x 1/2 inches
Covers are sanded 4-mil mylar with 10-mil mylar stiffeners, heat welded. The sandwiched collages are of various papers, aluminum window screen, plastic mesh and gold leaf. Sewn with linen thread, the book has paste-paper endpapers and endbands of linen thread over vellum. The binding portrays "the essence of alphabet" with the two basic shapes of the letter forms. 1998.
See "Moore" entry for description of calligraphic text.
A Constructed Roman Alphabet by David Lance Goines
12 1/4 x 8 1/4 x 1 1/4 inches
The covers are of native dyed Moroccan goatskin giving a tie-dyed effect. The book is sewn on six fine hemp cords which extend onto boards to form the design. Paste paper endpapers are by Claire Maziarczyk and the endbands are three colors of silk on two cores. The top edge is painted black and gauffered. 1998.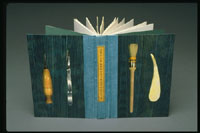 Marie Kelzer
San Francisco, CA
Book Repair: A Sampling of Essential Tools
8 3/4 x 6 1/2 x 1 inches
The cover is quarter bound with hand-painted tyvek and paste paper by the binder. Color-copied tools are onlayed and recessed into the cover boards. The book is sewn on Dutch linen tapes with endpapers of Fabriano Cover and endbands of double silk. The text papers are 80# Classic Crest Cover with color copies of tools, cut out, mounted onto 10pt. board and tied to the pages. 1998.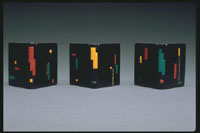 Monique Lallier
Summerfield, NC
Three Classic Faces
The Standing Press, Pulborough, West Sussex, 1997
2 5/8 x 2 1/8 x 1/2 inches
Each book has full leather covers of box calf with Morocco onlays, blind tooling and the name of the type face gold-tooled. The books are sewn on tapes with edge-to-edge leather doublures and leather endbands.1998.
Spiralbet
6 1/2 x 7 1/4 x 1/4 inches closed (6 1/2 expanded)
A tunnel book on concertinas with air-brushed color by Nancy Ames. 1998.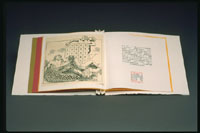 William Laufer
The Woodlands, TX
P: An Excursus into Liminal Space
10 x 11 x 1 3/4 inches
A binding of three sections is sewn to an unsupported concertina, with covers of Rising Stonehenge and endpapers of red, tobacco and deep yellow Fabriano Ingres Cover. Text papers are Rives Lightweight with illustrations in encaustic, pochoir, photoengraving and woodcuts on hand-cast paper and papyrus. Edition of 5. 1998.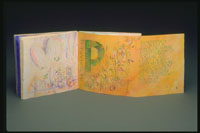 Nancy Ruth Leavitt
Stillwater, ME
A Light Alphabet, The world of light from A - Z
8 3/4 x 9 x 1 1/4 inches
The book has covers of plexiglas, a vellum concertina spine and coptic sewing with waxed linen thread. The endpapers and text are paste papers of Arches Text Wove with one sheet of mould-made Bodleian. The painting and lettering are of gouache and glair, crayons and colored pencil. The text is from the annals of physics as "a journey into and realization of my obsession with light, color and the alphabet." 1998.
---