AbeCedarium
An Exhibit of Alphabet Books
---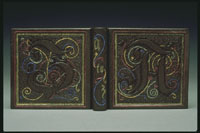 Nancy Lev-Alexander
Baltimore, MD
A to Z
An Adaptation of Kanter's Illustrated Book of Objects, 1892
4 1/2 x 5 1/8 x 3/4 inches
The book is covered in full oasis goatskin with cut leather design and inlay of paste paper. Tooled lines are drawn freehand and filled with metallic pigment mixed with acrylic gel medium. The single folio Nideggan sections are sewn on linen tapes with Maziarczyk paste-paper endpapers and silk and metallic end-bands. Photocopies of original text are reproduced at 200%, then hand colored with Derwent pencils. 1998.
The Anxiety Alphabet
4 x 7 x 3 inches
The boards, covered in fog-blue Strathmore charcoal paper, have inserted pins and needles protruding front and back. Endpapers are the same Strathmore, with the text gray Rives BFK in a coptic binding. This is from the deluxe edition of 10. Standard edition of 25. 1998.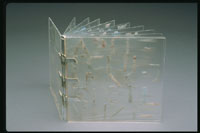 Charlene Matthews
Hollywood, CA
Abecedarium
8 1/8 x 8 3/4 x 5/8 inches
The covers are sheets of an optical-distortion polyvinyl called lenticles, with leather bands laced through three silver buckles. The text of single signatures of lenticles is sewn onto the leather bands and has letters cut from acrylic paste papers. 1998.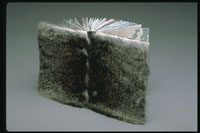 Christopher McAfee
Springville, UT
Rodentia Abecedarium
8 x 6 x 1 inches
The covers are goat leather and rabbit skin. The book is sewn on hemp cords and has leather endbands. The text is Arches Cover with illustrations in acrylic, gouache and ink. 1998.
Letter Lines, An Alphabetical Praise Song by Wynne Busby
12 x 6 7/8 x 1/2 inches
The text pages are paste-decorated Arches Text Wove and MacGregor & Vinzani handmade paper. The text, hand-lettered and painted in gouache and shell gold with stamping and stitching, is inspired by historic and contemporary written forms. There are archway images with abecedarians and borders of real and invented letters. 1998.
See "Glaister" entry for description of binding.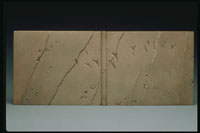 Patricia Owen
Santa Monica, CA
The Neolithic Adventures of Taffi-Mai Metalu-Mai ­ How the First Letter was Written
From How the Alphabet was Made by Rudyard Kipling, Bieler Press, 1997
8 7/8 x 10 3/4 x 1/2 inches
In a tight-back full oasis leather binding with blind impressions on a raised surface, the book has three dimensional onlays, painted Japanese endpapers and silk endbands. The text paper is Kitakata with illustrations printed on gampi inserts. 1998.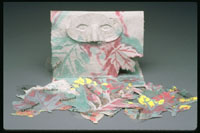 Maria G. Pisano
Plainsboro, NJ
Identity
9 x 12 x 8 3/4 inches
All papers are handmade of abaca and cotton. A three-sided mask wrapper contains twenty-six paper leaves and twenty-six printed mylar leaves with text of an autobiographical alphabet. The stencil designs are made with colored pulp. Edition of 4. 1998.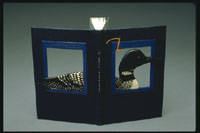 Eleanore Edwards Ramsey
San Francisco, CA
A Fowl Alphabet
Cheloniidae Press, 1986
8 1/2 x 5 1/2 x 3/4 inches
Bound in full French Cape morocco with a framed portrait of a loon sculpted and tooled with mosaics of morocco, chagrin and box calf. Cutout board covers reveal antique marbled-paper flyleaves and the book closes with a leather-covered magnetic clasp at the foredge. The text consists of twenty-six wood engravings by Alan James Robinson, with calligraphy by Suzanne Moore. Bound for Jane Pearce and Anne Howson. 1997.
Abecedario Della Cucina (Abecedarium for the Kitchen)
8 7/8 x 3 7/8 x 7/8 inches
An Italian butcher paper accordion book with watercolor, supracolor and ink illustrations. A page opens behind each letter to reveal a recipe incorporating the food depicted. The book is in Italian and uses the 21-letter Italian alphabet. Calligraphy is by Paul Shaw. 1998.
Alphabeticus
7 1/2 x 6 x 1 1/2 inches
The paste paper covers, decorated with pastel and pen-and-ink, are attached to an accordion-folded paper spine, with painted linen threads. Arches Text and Stonehenge pages have stencil, rubber stamp and pen-and-ink illustrations.1998.
---