Hand Papermaking in the Twentieth Century
by Cathleen A. Baker
This article is based on remarks presented at the 2006 Guild of Book Workers Standards of Excellence Seminar, celebrating the Guild's centennial, and is meant to represent the state of the Guild and the book arts at that time.
---
Dr. Cathleen A. Baker, a paper and book conservator with more than forty-years experience, is author of By His Own Labor: The Biography of Dard Hunter and From the Hand to the Machine. Nineteenth-Century American Paper and Mediums: Technologies, Materials, and Conservation. She is Conservation Librarian and Exhibition Conservator at the University of Michigan Library and proprietor of The Legacy Press, which specializes in books about the printing, paper, and bookbinding arts, www.thelegacypress.com. Contact Cathy at cabake[at]umich[dot]edu.
Papermaking by hand is a craft that has been practiced for at least two millennia. In the United States, however, after the 1817 introduction of the cylinder-type paper machine in the Gilpin mill, papermaking in this country gradually changed from a handcraft practiced in small mills to a large, organized, and competitive industry that manufactured tens of thousands of tons of paper a year on larger and faster machines. By the end of the nineteenth century, American handmade papers were being made by only a small number of mills as a specialty sideline, and by 1907, hand production ceased altogether. The last mill to produce handmade paper was the L.L. Brown Company in Adams, Massachusetts.
Fig. 1: Dard Hunter's paper mill at Marlborough-on-Hudson, N.Y., 1913.
At the turn of the twentieth century, as in the past, discerning printers and artists appreciated the unique characteristics of handmade papers but could only obtain them by ordering papers made in foreign mills, notably English, French, and Italian. One important user of handmade papers in the production of popular books was Elbert Hubbard's Roycroft Press, established in 1895. Seeking to emulate the expensive English private-press books published by William Morris's Kelmscott Press (1890–1896), Hubbard used handmade papers, often with the laid-mould pattern, sometimes watermarked "Roycroft," and accompanied by the company's logo. One prominent Italian mill that made paper for Roycroft books was Fabriano.
Future paper historian, Dard Hunter (1883–1966) joined the Roycrofters in East Aurora, New York, in 1904 and stayed until 1910. Although Hunter made designs for most of the Roycroft products, including furniture, lamps, and stained glass, his most enduring and well-known designs were for the Roycroft Press. Hunter's interactions with the Roycroft bookmakers undoubtedly imbued him with an appreciation for good-quality book papers, including the foreign handmade ones. His desire to learn more about hand papermaking, especially watermarks, led him to study these subjects while on a brief sojourn in London in 1910–1911.
After deciding to forsake his successful design career, Hunter returned to the United States with the goal of setting up a hand paper mill. In 1912, he found property on the outskirts of Marlborough-on-Hudson, New York, which included a large stone house (now the Gomez Mill House) and a creek-side site for a small paper mill. Over the next year, the 14 x 16 foot mill building was constructed as a replica of a Cotswold cottage complete with thatched roof. A waterwheel not only added to the picturesque scene but also provided the power to drive the beater that macerated the cotton and linen rags into pulp.
Figs. 2 and 3. Two watermarks that appeared in the paper that Hunter made for the Chicago Society of Etchers' keepsakes.
While Hunter made small sheets of decorative papers for stationery, as well as experimented with making watermarks (simple wire as well as light-and-shade), his primary goal was to manufacture quality handmade book and fine-art papers. Unfortunately, the quantity of water in the creek was too little and unpredictable, which ultimately led to the closure of this mill after only a few years. In the interim, however, Hunter made enough paper to print two keepsakes for the Chicago Society of Etchers: The Etching of Figures (1915–1916) and The Etching of Contemporary Life (1916). These two books have been described as the world's first "one-man" books because Hunter made the paper, cut and cast the type, and printed them, all by hand. However, he did not bind the books; the Oakwood Binders—Sterling Lord and Peter Franck, ex-Roycroft binders—performed the binding.
During the Marlborough years, Hunter grew increasingly aware that making uniform sheets of quality paper in quantity was more than he could do working alone. This frustration, combined with the advent of World War I and concern for the welfare of his wife and children, led to Hunter's selling Mill House, and in 1919 the family moved back to Chillicothe, Ohio, where the Hunters had lived since 1901. There, Hunter purchased an imposing residence on Carlisle Hill and called it Mountain House. Hoping to start up another paper mill nearby, he visited England in 1920 and purchased some equipment, but his desire to make paper dwindled as his interest in researching, writing, printing, and publishing books about papermaking increased. For the limited edition books that he published in the 1920s, Hayle Mill in Maidstone, England, made the paper.
In 1921 Hunter created an exhibit on hand papermaking for the Division of Graphic Arts of the Smithsonian Institution, drawing from his Marlborough equipment and paper collection. Whenever the chance presented itself, he demonstrated hand papermaking in an attempt to keep the art of the craft before both manufacturers and consumers of paper.
The goal to revive commercial hand papermaking in America, however, was never far from his thoughts. Finally in 1928 Hunter purchased property in Lime Rock, Connecticut, and proceeded to equip it as a paper mill. He hired an English papermaking family headed by Robert Robertson, and in May 1930, Dard Hunter, Inc. paper mill began making paper. Unfortunately, because of chronic financial problems, the Great Depression, and the inability to make salable book papers, the Lime Rock paper mill was never successful and was eventually sold at auction in 1933.
The equipment and hundreds of reams of paper remained in the mill until Hunter repurchased it in 1939. Eventually, the paper was moved to Mountain House and the equipment to the Dard Hunter Paper Museum at the Institute of Paper Chemistry in Appleton, Wisconsin. A flood destroyed the Lime Rock paper mill buildings in 1955, and America had to wait another twenty years for commercially manufactured handmade paper until Twinrocker Handmade Paper began operating in Brookston, Indiana.
Hunter wrote ten limited edition books between 1923 (Old Papermaking) and 1950 (Papermaking by Hand in America), which were published either by Mountain House Press or by Pynson Printers. Of these, Hunter printed many on Washington-style hand presses, using the type he had cast in Marlborough. Later books were printed on paper made in the Lime Rock paper mill.
The information contained in these books is invaluable because it is largely based on Hunter's practical experience coupled with firsthand observation of papermaking during numerous trips to paper mills and papermaking villages around the world. However, the volumes are also extraordinary examples of fine bookwork. The beautiful handmade paper printed damp, the unique typeface, elegant typographical design, and fine letterpress printing have rarely been equaled. Hunter's most well-known work, however, is the affordable, classic reference, Papermaking: The History and Technique of an Ancient Craft, published by Knopf in 1943 and 1947. The later edition was reprinted by Dover in 1978 and remains in print.
While these books continue to be valued contributions to the subject of hand papermaking, Hunter considered his paper museum to be his crowning achievement. Assembled during his many trips abroad, as well as from other collectors, Hunter's paper-related collection grew to the extent that, in the 1930s, he decided to make it available to the public. After efforts to create a museum in Chillicothe failed, the president of the Massachusetts Institute of Technology (MIT), Karl Compton, offered to set up the Dard Hunter Paper Museum there, and it opened in 1939. Again, timing was unfortunate; World War II turned everyone's attention to more complex, "progressive" technologies and away from the handcrafts. As a result, Hunter's collection lingered at MIT, largely unnoticed and unused during the war years. In 1950, the new MIT library was built, which housed the collection. Interest and relevance to the educational mission of MIT continued to decline, and finally in 1954, the Institute of Paper Chemistry (IPC) in Appleton, Wisconsin, purchased the museum. Hunter was sure that his collection would be a focal point at IPC, but subsequent leaders of the institute reflected the general trend: fewer and fewer administrators and leaders of the paper industry were interested in the traditional handcrafts. By Hunter's death in 1966, the museum, located in the basement and sub-basement of IPC's administration building, was rarely visited, a situation that continued into the late 1980s.
In 1989, IPC relocated to the Georgia Institute of Technology in Atlanta and was renamed the Institute of Paper Science and Technology (IPST). Through the concerted efforts of a few people and organizations, notably the Friends of the Dard Hunter Paper Museum (now the FDH), most of the collection, which had been on display for over fifty years, went into a research facility and is available to researchers, while a museum was located off the main entrance to IPST's new building. The now-named Robert C. Williams Paper Museum annually hosts hundreds of school children, who are treated to a comprehensive story of hand papermaking as a precursor to machine-made paper. The focus of the museum's exhibit area is on hand papermaking, however, and this often inspires visitors to take up the craft. Hand papermaking, once practiced by a handful of enthusiasts, is now taught in a number of colleges and universities as part of visual-arts or book-arts programs; more informal papermaking workshops abound.
While Hunter's legacy, especially that of his books and museum, provided a link between traditional hand papermaking and machine-made paper, he was not alone in his quest to keep the handcraft alive. Throughout his life, however, Hunter held strong, largely negative, views about "hobby" papermakers. In Chapter XV of his Papermaking: The History and Technique of an Ancient Craft, Hunter described the efforts of these hobbyists, as well as his own attempts at papermaking at Marlborough:
"The making of paper in limited dimensions at a small vat enables the amateur to study fibre formation, and much can be gleaned about paper and watermarking through working in this limited manner. Such procedure, however, has but little relationship to real papermaking by hand with large moulds and proper equipment."
Hunter defined a papermaker as someone who had served a long apprenticeship in the trade and who could make a consistent sheet of paper over and over again, working in concert with a coucher and layer. The only persons in his circle of acquaintances whom he thought deserved the title "papermakers" were Robert Robertson and his sons.
Regardless of what Hunter thought of them, people like Harrison Elliot and Douglass Howell played a crucial role in the renaissance of hand papermaking in this country. For example, after attending a seminar taught by Howell in 1962, Laurence Barker set up a paper mill at the Cranbrook Academy of Art near Detroit, Michigan, and many of his students influenced others to make paper by hand. At Wayne State University, a critical connection was made between Aris Koutroulis (one of Barker's students and a Tamarind master printer) and Kathryn Haugh, a printmaking student of his. Koutroulis introduced Kathryn to papermaking, and after graduation, she and husband Howard Clark, a mechanical engineer and industrial designer, moved to San Francisco, California. In 1997, Howard recalled to me the moment that changed their lives.
"In the fall of 1970, I was sitting in our living room with Dard Hunter's Papermaking: The History and Technique of an Ancient Craft in my lap when it hit me. I looked up from the book, and I remember very clearly everything that I saw in the room and the dining room beyond. I had just read Chapter XV once again, and Dard had once again admonished me for even thinking about making handmade paper on a small scale, when it struck me that things had changed, really changed.

Creative energy infused in the air of San Francisco in 1970, a good deal of it came from book arts dynamo Clifford Burke, who borrowed Hunter's book from a collector and handed it to Kathryn and me saying, "You need to read this." He was right. Hunter's book revealed the world-wide scope of papermaking and that making it as a studio craft was not uncommon in other cultures, even if it was unheard of in the West. We saw, through our 1970 eyes, that handmade paper could be accepted and used in ways that would have been unthinkable in Dard Hunter's era.

We began corresponding with Dard Hunter II shortly thereafter, thanks to Arnold Grummer at the Institute of Paper Chemistry. Dard encouraged us to give it a try. If our basement shop wasn't so wet, we would have framed those letters (as well as those from Henry Morris, James Lamar Weygand, Remy Green, and James Yarnell). As it was, we referred to them constantly."
The Clarks were soon joined by Kathryn's twin sister, Margaret "Peggy" Kuehnle (now Prentice), and her husband, Kit.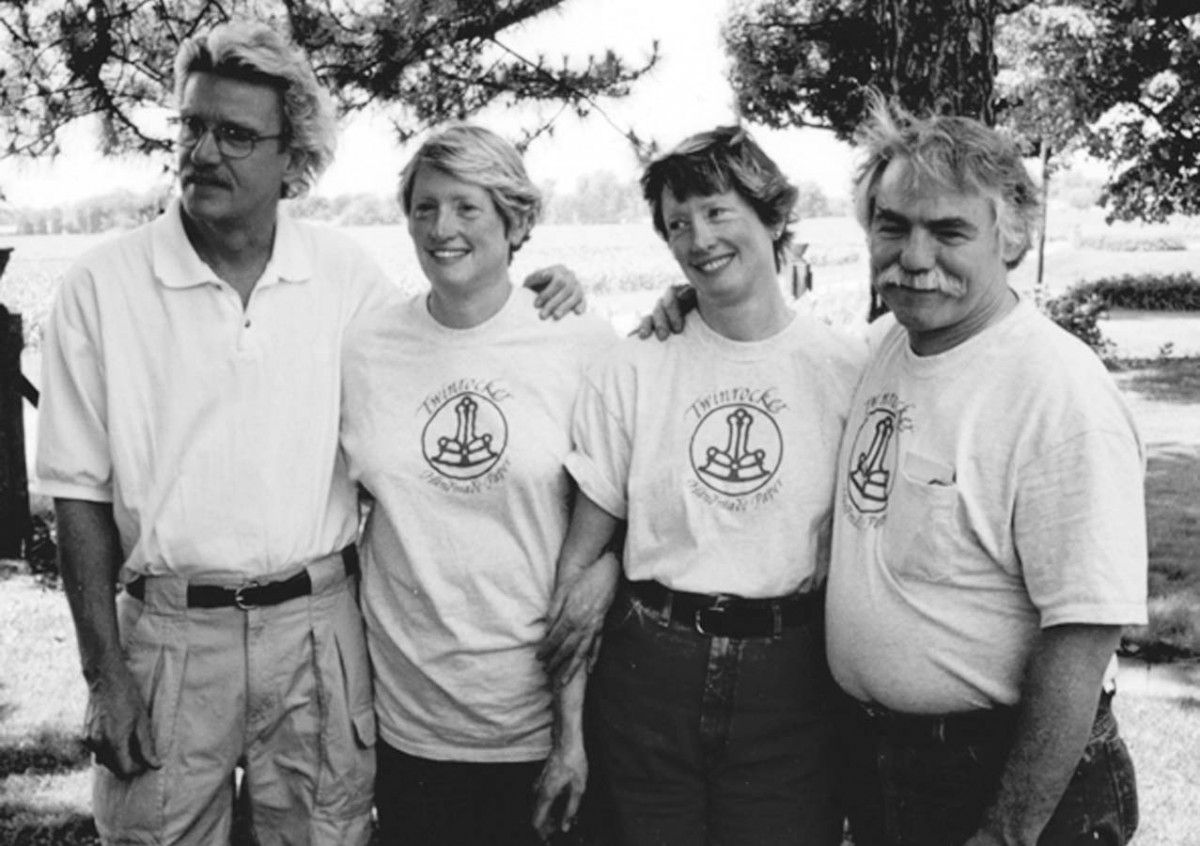 Fig. 7: From left to right: Kit, Peggy, Kathy, and Howie at the 1997 Twinrocker reunion, Brookston, Indiana.
Howard made the moulds, vat, and beater using Hunter's book as his guide, and the other three began making paper in 1971. Kathryn recalled in the video The Mark of the Maker: The Fine Art of Papermaking at Twinrocker: "We thought…it will take us a couple of months to figure this out, and it took us years." Soon they received orders for custom artist papers. Bolstered by their success, the Clarks and Kuehnles decided to try to make a living by the craft. Howard's family farm in Brookston, Indiana, seemed the ideal place to build a mill designed especially for papermaking. In spring 1972, Twinrocker Handmade Paper was established there. (Both sisters owned Lincoln rocking chairs, which gave rise to the name "Twinrocker"; the mill's watermark is back-to-back rocking chairs.)
Peggy and Kit left Twinrocker in 1973, and the operation could easily have closed then, but the Clarks were determined to make their paper mill a viable business. While Howard designed and built the necessary equipment and solved the technical problems, Kathryn became the "master papermaker." Because Twinrocker's clientele required relatively small quantities of paper in custom sizes and shapes, Kathryn made paper in the same way that she editioned a print: she both formed and couched each sheet. (Even though Twinrocker now makes stock as well as custom papers and employs a number of papermakers, this one-person technique is still largely practiced.)
After a year of struggling alone, the Clarks recognized that, if the mill and the craft were to continue, others had to be trained to make paper. And so in 1974, the first Twinrocker apprentice, Katherine Kiddie, arrived in Brookston. Over the next decade, she was succeeded by a number of talented and dedicated young people who wanted to learn more about papermaking; these included Timothy Barrett, Lee Scott McDonald, Jennie Frederick, Timothy Payne, Bernie Vinzani, Katie MacGregor, and Pati Scobey.
Tim Barrett has been associated with the University of Iowa Center for the Book since 1986; previously, he operated Kalamazoo Handmade Papers. Barrett has also written extensively on the subject of Japanese hand papermaking. Since 1976, Lee McDonald has operated a papermaking supply and equipment business near Boston. Jennie Frederick is an artist, teacher, and researcher living near Kansas City, Missouri. Tim Payne operated the Jabberwock Mill in Tasmania, Australia.
Bernie Vinzani and Katie MacGregor continue to make paper in their respective mills in Maine. In 2006, Bernie wrote:
"Formerly Vinzani-MacGregor, Vinzani Hand Paper is still in the same location it has been since 1983, making various specialty papers for books conservation and other art applications. I also teach classes here as part of an interdisciplinary program at the University of Maine at Machias. Three courses that I teach there are part of the English department's book arts and publishing concentration. This is a new program that was accepted into the system last year, and we have been renovating a space that will eventually include a letterpress shop to house our two Vandercooks, and a paper shop to house our paper equipment. We recently received a healthy grant from Bangor native and writer Steven King to help set up the program.… While I still make paper as a one-vat paper house [at home], I have become more selective in what I do make. There is a need for specific text papers for book printing, so I have three or four papers I make regularly. I continue to do custom watermarks as well. I'll never be without my shop—I increasingly love paper, the repetitive act of making it still fulfills me. Patty—my partner—has also taken up sheet forming, and is an excellent papermaker."
Katie MacGregor, of MacGregor Handmade Paper, described her mill this way:
"In the past 12 years, MacGregor's production work has expanded to include conservation and restoration papers used by universities, museums and private conservators. Her papers are made from blends of muslin and denim. Added to some sheets are small amounts of linen or abaca to increase strength and visual character. Custom coloring…has been a particular interest to her. Color and sizing are done with consideration around the archival properties of the paper."
In future, MacGregor looks forward to expanding her production of custom papers for book binders and fine book printers by creating heavier cover stocks and decorative end sheets as components to their work.
Pati Scobey is a talented artist who uses handmade paper in her creations, and she and her husband, Timothy Moore live in Concord, Michigan. Tim recently wrote:
"I have been making Paper Molds and Bookbinding Tools for over 20 years (since 1982). At that time I was able to examine a large number of production grade British Paper Molds and my molds are based on that type. I am interested primarily in providing a high quality and useful tool for serious paper makers and have adapted the traditional design somewhat. The Paper Molds are all custom-made and must be ordered in advance."
The Twinrocker apprenticeship program ended in 1985, and the paper mill now employs people from the local community. For example, "TJ" Becker has made paper for years and is now a partner in the business. Although Hunter's legacy lies at the root of the revival of papermaking in this country, it was Twinrocker that gave the craft critical commerciality and continuity.
As early as the 1940s, a few artists saw beyond the use of paper in its traditional role as a support and began using it as a medium for the creation of works of art. American artist Isamu Noguchi exploited the translucent quality of Japanese handmade paper and made paper "lantern" sculptures illuminated from within. In the early 1950s, Douglass Howell experimented extensively with paper as an artistic medium. In the 1970s, Winifred Lutz, another of Barker's students, made elegant sculptures from paper and pulp. Other people who turned from traditional media to paper pulp to create unique works include Kenneth Noland, Robert Rauschenberg, Frank Stella, Kenneth Tyler, Claire Van Vliet, and Leslie Dill.
There are a number of other pioneers who have worked in handmade paper. These include John Koller, Don Farnsworth, Robert Serpa, Helmut Becker, Walter Hamady, and the late A. Lynn Forgach and Joseph Wilfer. Hamady, for example, taught many students who established their own studio mills, including Susan Gosin, who opened Dieu Donné Paper mill in New York City. The late Glenn House explored the potential of a native Alabama mulberry plant that yields fiber similar to Japanese kozo. Lilian Bell experimented with indigenous plants and wrote about preparing them for papermaking. John Stahl has been diligent in his efforts to reintroduce fiber hemp for commercial papermaking.
Tom Leech, Alexandra Soteriou, Dorothy Field, and Jane Farmer have further contributed to our knowledge about Third World papermaking activities, some of which Hunter observed more than a half-century ago. Lynn Amlie—and now Aimee Lee—specialized in Korean papermaking, and Marjorie and Harold Alexander brought papermaking to urban communities in Jamaica and Egypt. Peter Thomas visited and documented the few remaining European and English hand papermaking mills. Still others have published books on the modern craft of papermaking, notably Bernard Toale and Jules Heller.
Elaine Koretsky has made significant contributions to our knowledge about hand papermaking, especially those in Asian countries. Together with husband, Sidney, Elaine has truly followed in the footsteps of Dard Hunter. The author of a number of books and DVDs, she recalled, "over a 30-year period I explored and documented traditional hand papermaking in 41 field expeditions to 43 countries around the world." Elaine established the Research Institute of Paper History & Technology in Brookline, Massachusetts, and her daughter, Donna Koretsky Reina, runs Carriage House Paper—in business since 1975—now located in Brooklyn, New York.
David Reina has made beaters and other papermaking equipment for over thirty years. No doubt reflecting the concerns of many in the burgeoning field a quarter century ago, David wrote that he
"wondered in the early years of the business if we would reach a point where the circle of people interested in hand papermaking would all have filled their studios and sales would end. And since beaters are tough enough to last for decades, [any] used ones on the market would take care of demand from new papermakers.

What actually happened was a yearly increase in beater orders which now has leveled off at a steady rate. One thing that has changed is a higher percentage of school or institution sales over the last ten years versus the private studio purchase.

Occasionally we hear of a used machine coming on the market. If someone tells me of one I am happy to pass the information onto whoever has asked us about used machines. Over the last few years we have connected a few people with used machines. Now I think the Internet will make it easier for people to connect with used equipment."
Cave Paper was founded in 1994 by Amanda Degener and Bridget O'Malley, an apprentice of Tim Barrett's. The mill, located in the dark basement of the Campbell Logan Bindery, is in Minneapolis, Minnesota.
"Since [opening] we have expanded our line to include 16 standard papers in two sizes (18 x 24 and 22 x 30). We have many other mould sizes and have made sheets up to 4 x 8 [feet]. Our papers have an "of the earth" look to them. Flax and cotton are the primary fibers we use, and [we] dye many of our papers with walnut, indigo and persimmon. In addition to the inventory sheets, we work with clients to create one of a kind or limited run custom sheets for projects ranging from book covers and endpapers, to interior design/architectural applications."
The hand-papermaking craft, in its many iterations, has been well documented by the outstanding periodical, Hand Papermaking, founded by Amanda Degener and Michael Durgin in 1986. The mission of the not-for-profit Friends of Dard Hunter, which celebrated its twenty-fifth anniversary in 2006, "is to hold in esteem the Dard Hunter Collection of the Robert C. Williams Paper Museum. The Friends also promotes and provides information exchange and education between its members about paper-related topics. This is accomplished through publications and annual meetings."
And what about future generations? The number of graduate programs in the fine and book arts, which usually include a papermaking facility, continues to increase. Nonprofit organizations such as the Minnesota Center for Book Arts, Pyramid Atlantic, and the Morgan art of Papermaking Conservatory, which provide equipment and expertise in hand papermaking to artists and members of the public alike, are also proliferating. Letterpress printing, papermaking, and bookbinding are all enjoying a slow but steady renaissance among young people, as well as older professionals embarking on new, craft-oriented careers. Because papermaking is easy, immediate, and nontoxic, it is a natural artistic medium for children. One element in its appeal for children is that it allows them to create something beautiful and useful out of common plants and recycled paper. The numbers of papermaking opportunities for children increases yearly, and the late Arnold Grummer and Gloria Zmolek Smith, among others, have written books on the craft especially for children. Some of these youngsters will develop an abiding interest in the craft, as well as in the other book arts.
At the beginning of the twenty-first century, therefore, hand papermaking is better-understood, appreciated, and practiced by more people in America than at any period during Hunter's lifetime, a situation that would, no doubt, have amazed and pleased him.
---
The following is a partial list of the many individuals and organizations that are intimately associated with hand papermaking:
Hand Papermakers, Paper mills, Suppliers
Papermaking Equipment
Paper Museums, Collections, and Historic Sites
Papermaking Organizations
Further Reading/Viewing
Baker, Cathleen A. 2000. By His Own Labor: The Biography of Dard Hunter. Tuscaloosa, AL: Red Hydra Press; New Castle, DE: Oak Knoll Press.
Baker, Cathleen A. 2010. From the Hand to the Machine. Nineteenth-Century American Paper and Mediums: Technologies, Materials, and Conservation. Ann Arbor, MI: The Legacy Press.
Hunter, Dard. 1941. Before Life Began. Cleveland, OH: Rowfant Club.
Hunter, Dard. 1958. My Life with Paper: An Autobiography. New York: Knopf.
Hunter II, Dard. 1981, 1983. The Life Work of Dard Hunter, 2 vols. Chillicothe, OH: Mountain House Press.
The Mark of the Maker: The Fine Art of Papermaking at Twinrocker. 1995. Santa Monica, CA: Direct Cinema Limited.