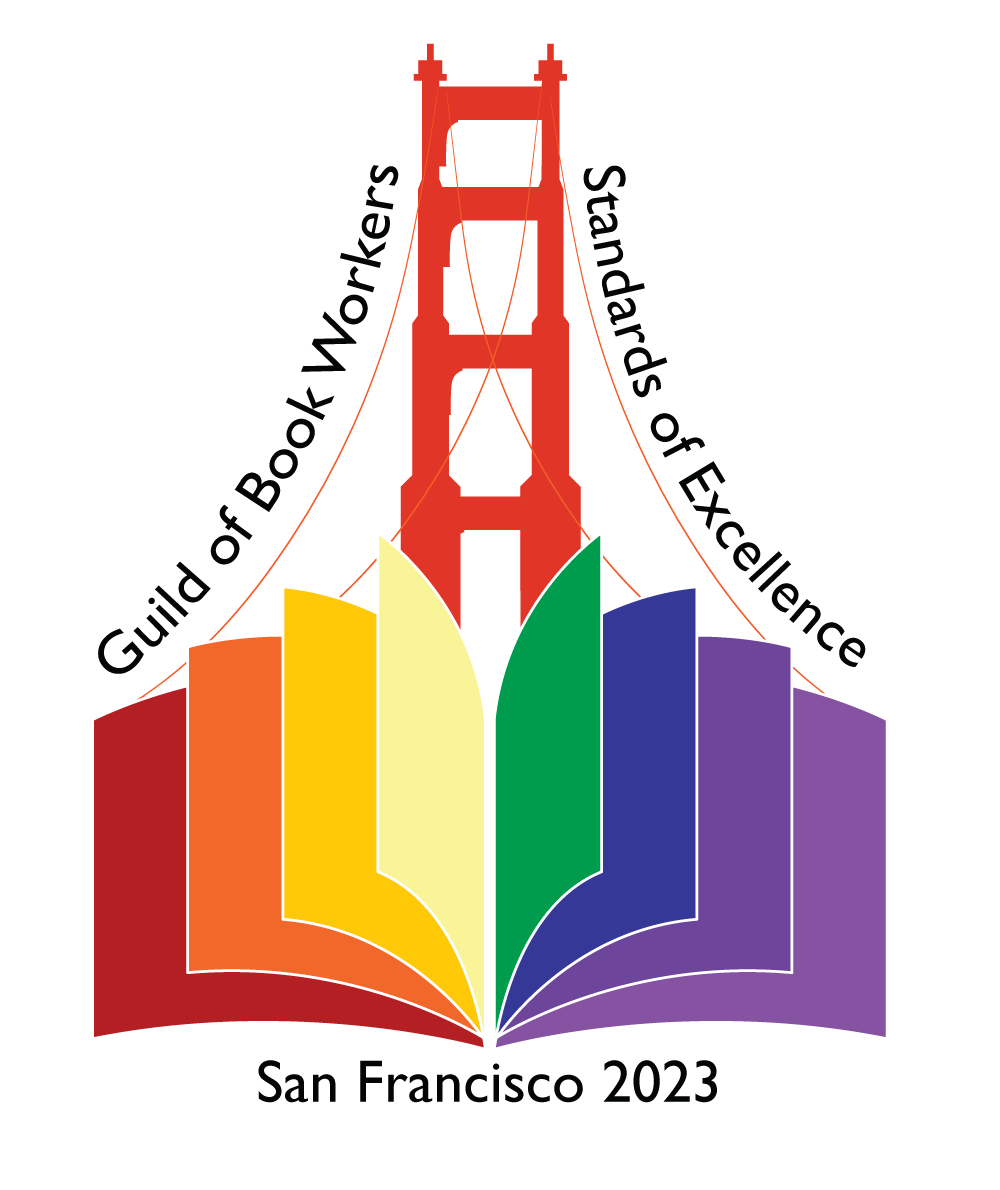 The Standards of Excellence Seminar in Hand Bookbinding is the annual Guild of Book Workers conference. Held annually at a different location around the country, participants attend presentations by leading experts in the fields related to the book and paper arts.
Tours of binderies, conservation facilities, rare book libraries and papermaking establishments are regularly arranged in conjunction with the event.
A list of past presentations is available on the History of Standards page. Additionally, many Seminar presentations are recorded and are now available to stream on Vimeo.
The Guild's Annual Meeting is held in conjunction with the seminar. Many well known Vendors also attend the conference and offer high quality tools and supplies for sale throughout the event. The vendor room is open to the public.
Why should you attend?
Hear what our members have to say about the value of the conference in this video.
 
For more information about the Standards of Excellence Seminar contact Jennifer Pellecchia, Standards Committee Chair, at standards [at] guildofbookworkers [dot] org.
Registration
The Standards of excellence Seminar is open to all regardless of membership status. Registration opens June 1, 2023. Registration closes August 31, 2023. Registration is limited to 200 people—a wait list will be created if registration exceeds that number.
All questions regarding registration payments should be directed to Larry Houston, GBW Treasurer: treasurer@ guildofbookworkers.org. Other questions regarding the Seminar should be directed to Jennifer Pellecchia, Standards Chair: standards@guildofbookworkers.org
All events will occur at the Hilton San Francisco Union Square, except the Area Tours and the Thursday and Friday Receptions. The Program Packet will contain all necessary information regarding locations of events, timing and scheduling, as well as information on local sites, restaurant recommendations and more.
Registration Rates:
| | | | |
| --- | --- | --- | --- |
| Member | (Early Rate) | June 1 - July 15 | $425.00 |
|   |   | July 16 - August 31 | $495.00 |
| Non-Member | (Early Rate) | June 1 - July 15 | $535.00 |
|   |   | July 16 - August 31 | $595.00 |
| Student (with ID) |   |   | $300.00 |
All questions regarding registration should be directed to Lawrence Houston, Treasurer. All fees listed on the registration form are in US dollars. There is a cancellation fee of 10% of the Registration Fee up to 30 days before the Seminar. No refunds are given for cancellations made within the 30 days prior to the conference. Cancellation fees do not apply to scholarship applicants who do not receive an award and are unable to attend without financial assistance. Registrations may not be shared and are non-transferable.
Scholarships
Scholarships are available to attend the Standards of Excellence in Hand Bookbinding Seminar. Scholarships are available for both student and regular members. Non-members may apply, but are required to become a member prior to attending the Seminar. The scholarship consists of a waiver of registration fees, lodging costs for four nights at the conference hotel, and the cost of the Saturday evening banquet dinner. The lodging costs covered do not include hotel parking, phone calls, movie rentals, or any other room services. Tour costs are not covered by the scholarship. The GBW Treasurer will reserve a room for each recipient at the conference hotel. Recipients are responsible for making their own travel plans. Please direct questions to Henry Hebert at vicepresident@guildofbookworkers.org. Recipients may be asked to help with newsletter coverage and/or assist with other tasks during the Seminar.
Applications will open May 22nd and must be received by Friday, June 30, 2023.
The Scholarship Committee will inform applicants of their decision before the early bird registration deadline on July 14th.
 
Schedule
WEDNESDAY, SEPTEMBER 27
| | | |
| --- | --- | --- |
| 3:30PM - 8:00PM | Registration and Information | Franciscan A & B |
| 4:00PM - 6:00PM | Chapter Chair Meeting | Franciscan C |
| 6:00PM - 8:00PM | Board Meeting & Dinner | Franciscan C |
THURSDAY, SEPTEMBER 28
| | | |
| --- | --- | --- |
| 8:00AM - 5:00PM | Registration and Information | Franciscan A & B |
| 8:00AM - 5:00PM | Tours |   |
| 10:00AM - 6:00PM | Vendor Room | Plaza Room, Lobby Level |
| 5:30PM - 8:00PM | OPENING RECEPTION | Arion Press |
FRIDAY, SEPTEMBER 29
8:00AM - 5:00PM
Registration and Information
Franciscan A & B
8:00AM - 6:00PM
Vendor Room
Plaza Room, Lobby Level
9:00AM - 12:00PM
BRIEN BEIDLER • Finishing Tool Making: An Economical Approach
Imperial Ballroom
12:00PM - 2:00PM
Lunch on your own
 
2:00PM - 5:00PM
STEPH RUE • Paper, Books, Art, Community: My Journey with Hanji
Imperial Ballroom
5:15PM - 6:15PM
GBW Annual Business Meeting
Imperial Ballroom
7:00PM - 9:00PM
30th Anniversary Reception
hosted by The American Academy of Bookbinding
American Bookbinders Museum
355 Clementina Street, San Francisco, 94103
SATURDAY, SEPTEMBER 30
| | | |
| --- | --- | --- |
| 8:00AM - 12:00PM | Registration and Information | Franciscan A & B |
| 8:00AM - 4:00PM | Vendor Room | Plaza Room, Lobby Level |
| 9:00AM - 12:00PM | GABBY COOKSEY • Tattooing on Leather, a Journey into a New Decorative Technique | Imperial Ballroom |
| 12:00PM - 2:00PM | Lunch on your own |   |
| 2:00PM - 5:00PM | JEFF PEACHEY • Fifty ways to reattach your boards | Imperial Ballroom |
| 3:00PM - 6:30PM | Silent Auction | Outside Imperial Ballroom |
| 6:00PM - 7:30PM | Cocktail Hour (Cash Bar) | Imperial Ballroom |
| 7:30PM - 9:00PM | Banquet Dinner | Imperial Ballroom |
| 8:00PM - 10:00PM | Live Auction | Imperial Ballroom |
Area Tours: Thursday, September 28th
Please meet your tour group in the hotel lobby 15 minutes prior to departure.
East Bay Tour: John DeMerritt Bookbinding, Zukor Conservation, the CODEX Foundation
Time: 9:30am - 4:45pm 
Cost per participant: $60
Number of participants: 12
Travel by van to the East Bay to visit three fascinating workspaces! Zukor Art Conservation specializes in the repair and preservation of art and artifacts on paper - prints, drawings, watercolors, pastels, documents, maps, manuscripts, and rare books. John DeMerritt Bookbinding produces small editions of books, boxes and portfolios. The new CODEX Foundation Logan Book Arts Center aims to be a vital part of the arts and culture community in Berkeley, focusing on the art of the handmade book – a dynamic crossroads between the visual and literary arts.
This tour will include time for lunch on your own at the Public Market Emeryville.
Paper Making with Logos Graphics 
Time: 9:30am - 12:30pm AND 1:00 - 4:00pm
Cost per participant: $30
Number of participants per tour: 5
John Sullivan will lead this workshop at his studio in the Project Artaud artists' community. Participants will learn how to make paper out of kozo fibers which have been previously prepared, how to charge the vat, and will learn sheet formation using traditional sugeta. There will be sufficient time to repeat these steps so all participants can form and dry multiple sheets of washi.
Please note that morning and afternoon tours are the same. This tour is wheelchair accessible.
San Francisco Center for the Book
Time: 9:30am - 12:00pm
Cost per participant: $20
Number of participants per tour: 18
Located in the Potrero Hill neighborhood, San Francisco Center for the Book is a non-profit organization that fosters the appreciation of bookbinding and letterpress printing and the critical consideration of artists' books as a medium of self-expression. Public programs include exhibitions, artist talks, the publication of our annual Small Plates imprint, and group tours. Offering in-person and online workshops, SFCB provides learning opportunities at all levels, from introductory classes to advanced courses spanning the range of bookbinding and letterpress printing techniques.
GBW Standards participants will tour SFCB's bindery classrooms and print studio, working with staff to print a pre-designed keepsake poster on a Vandercook press. "Datz Press: Global Voices in Contemporary Photobooks" will be on view in SFCB's exhibition gallery.
San Francisco Museum of Modern Art Conservation Lab and Library
Time: 1:45pm - 3:30pm
Cost per participant: $20
Number of participants per tour: 11
The San Francisco Museum of Modern Art is one of the largest museums of modern and contemporary art in the United States and a thriving cultural center for the Bay Area. Conservation at SFMOMA links the lives of objects with the efforts of people across the museum. The Library and Archives preserve and provide access to a growing collection of scholarly and archival research materials, including books, serials, exhibition documentation, ephemera, photographs, and media collections. This tour offers a look behind the scenes at the workroom and conservation studio in the new SFMOMA.
This tour is a walking tour. Participants in wheelchairs may contact standards@guildofbookworkers.org to arrange for alternate transportation. SFMOMA is wheelchair accessible.
San Francisco Public Library Book Arts & Special Collections and Preservation Department
Time: 10:00am - 12:00pm
Cost per participant: $20
Number of participants per tour: 18
The Marjorie G. and Carl W. Stern Book Arts & Special Collections Center houses important research collections on printing history, calligraphy and lettering, wit and humor, little magazines and zines, early children's books and several smaller collections. The SFPL Preservation Unit is responsible for the preservation and conservation of the circulating, reference, and special collections of the San Francisco Public Library and its 27 branches.
This tour is a walking tour. The San Francisco Public Library and conservation lab are both wheelchair accessible.
Opening Reception
Thursday, September 28 at Arion Press, featuring the The 51st Annual Members' Exhibition of the Hand Bookbinders of California
Arion is located at 1802 Hayes Street, The Presidio, San Francisco. Buses will leave the hotel beginning at 5:00pm and circle between Arion and the Hilton at regular intervals.
Arion Press pairs great artists with great literature to create beautiful books by hand. They publish limited editions every year, each conceptually unique. Some are accompanied by limited edition art prints. Past collaborators include Wayne Thiebaud, Kara Walker, Margaret Atwood.
The Hand Bookbinders of California (HBC) will commemorate their 51st anniversary with their annual members exhibition highlighting the organization's dedication to preserving and passing on the traditions of fine binding and book arts. HBC membership includes students, makers of artists' books, collectors, conservators, papermakers and paper decorators, fine printers, printmakers, writers, book dealers and other lovers of the book arts. This year's exhibition will feature 10 unique bindings of Arion Press' latest limited edition book Poe's Phantasia, a selection of poems and stories by Edgar Allen Poe, and a companion volume of the Raven, featuring artwork by Natalie Frank.
Special Event
Friday, September 29 at the American Bookbinders Museum, hosted by the American Academy of Bookbinding
The American Academy of Bookbinding will host a reception honoring graduates, and celebrate 30 years of providing access and opportunity for binders to experience an exceptional education. The event will be held from 7:00pm - 9:00pm at the American Bookbinders Museum, 355 Clementina Street, a short walk from Union Square.
---
If you arrive to the Seminar early, you will not want to miss the San Francisco Center for the Book's (SFCB) annual Roadworks Steamroller Printing Festival. Sunday, September 24, 2023 marks the 20th anniversary of this illustrious all-day public printmaking and book arts extravaganza. The general public join the festivities, which include free hands-on printmaking and book arts activities, demonstrations, vendors, an open house, and more.
For more information, visit: sfcb.org/RWgeneralinfo.
Brien Beidler 
Finishing Tool Making: An Economical Approach
[Friday Morning]
Finishing tools are expensive and often difficult to find, so being able to make one's own is an asset to any binder. Though primarily used on leather surfaces, these tools can be used on cloth, paper, and, with some additional consideration, even wood. This presentation will focus on empowering bookbinders to fashion their own custom finishing tools. Brien will demonstrate the process of transforming commercially available brass stock into beautiful and functional tools through metalworking operations such as sawing, filing, drilling, more filing, and basic engraving. With an emphasis on approachability, he'll illustrate how simple hand tools can result in finishing tools that suit one's own aesthetics and needs.
BRIEN BEIDLER is a bookbinder and toolmaker whose work celebrates the structure and aesthetics of pre-industrial bindings in a 21st century context. He also enjoys making finishing tools for fellow binders, and teaches workshops on bookbinding, gold tooling with egg glair, and finishing tool making. In his own work, Brien is deeply inspired by the processes of pre-industrial bookbinders and uses tools and techniques that replicate the structural and visual properties of the books they made. His binding practice includes the fabrication of finishing tools, and these occupations work in parallel to explore the beauty and symbolism of individual tool impressions made on book covers. beidlermade.com
Steph Rue
Paper, Books, Art, Community: My Journey with Hanji
[Friday Afternoon]
Hanji (Korean paper) is an ancient material, made from the inner bark of the mulberry tree. With a long history deeply intertwined with the development of printing and books in Korea, hanji remains a transformative and adaptable material. This presentation will cover a history and technical overview of Korean papermaking as well as a demonstration of Korean bookmaking, with a focus on how book covers were traditionally prepared. The presentation will move on from tradition to explore the intersection of hanji and textiles and the use of hanji for creative expression, including methods for using paper to create patchwork bojagi (a traditional Korean textile). We will conclude with a discussion of recent projects that use hanji as a vehicle for collaboration and community building.
STEPH RUE is an artist working primarily with handmade paper and books as her medium. She received her MFA degree from the University of Iowa Center for the Book and BA degree from Stanford University. She is a 2015–2016 recipient of a Fulbright Research Grant to South Korea, where she studied traditional Korean bookbinding, papermaking, and printing. Her artist books and paper works are held in a number of public and private collections, including Yale University, The Metropolitan Museum of Art Library, and the Asian Art Museum in San Francisco. Steph is a co-founder of the Korean American Artist Collective and a member of the Book/Print Artist/Scholar of Color Collective. She is also a co-founder of Hanji Edition, a publisher of fine art and print works with/on hanji. Steph teaches workshops and classes on papermaking, bookmaking, and related arts, with an emphasis on East Asian techniques. She has taught at Mills College and the San Francisco Center for the Book. Her current project, supported by an NEA grant through the City of Sacramento, is to collect stories of immigration from Asian communities through the study of papermaking and natural dyes. Steph lives and works out of her home studio in Sacramento, CA. bookprintcollective.com/steph-rue
Gabby Cooksey
Tattooing on Leather, a Journey into a New Decorative Technique
[Saturday Morning]
Gabby Cooksey will be showing how to tattoo on leather. Cooksey has always loved illustrative line work and wondered how to incorporate that into her design bindings. In 2021, when designing for a book about human skin bindings, the opportunity finally came about. It took her 3 months of self-taught experimentation which has led to an array of new and exciting ideas. She'll cover details of the tools used in tattooing, show a brief history of tattooing and finally how to experiment with it yourself so you can make indelible marks on your own skins. .
GABBY COOKSEY is a full-time bookbinder and book artist in Tacoma, WA. Her use of odd materials and mythical stories inspire her books. She went to American Academy of Bookbinding and graduated from North Bennet Street school in 2014. She was the studio assistant for Don Glaister and Suzanne Moore for 6 years and continues to work for Jessica Spring at Springtide Press. Gabby's work can be found at the Boston Athenaeum, University of Puget Sound, and the Library of Congress. boundbycooksey.com
Jeff Peachey
Fifty Ways to Reattach Your Boards
[Saturday Afternoon]
Detached boards are arguably the most common problem in bound book structures. Traditionally, rebacking was the go-to treatment, but recently less invasive techniques have been developed. The rise in minimally invasive treatments is especially prevalent in book conservation, as books are becoming material evidence of historical communication networks rather than repositories of textually based information. Peachey will present a new way of organizing fifty ways of board reattachment. There are five overarching categories: sewing extensions and joint tacketing, inner and outer hinge repairs, interior board attachments, and rebacking. An overview of the first four categories will be presented, a selection of practical techniques demonstrated, and a framework of their relative advantages and disadvantages established.
JEFF PEACHEY is the owner of Peachey Conservation LLC, a NYC based studio which specializes in preserving the intrinsic, artifactual, aesthetic and historic values of books. With more than 30 years experience, he has been awarded numerous fellowships to support his book history research, including from the Rockefeller Foundation Bellagio Center (Italy) and the University of Toronto. He invented the Peachey Board Slotting Machine, which is used in book conservation labs around the world for board reattachment. He also designs and manufactures other specialized conservation tools. A well known instructor both nationally and internationally, he teaches the Historical Book Structures Practicum to US graduate book conservation students from New York University, the Winterthur/ University of Delaware and Buffalo State University. His forthcoming publication, The Binder's Curse, explicates the bookbinding poetry and work of the early 19th century New York City bookbinder John Bradford. Books: jeffpeachey.com Tools: peacheytools.com .
Hotel and Travel Information
The conference hotel is the Hilton San Francisco Union Square, 333 O'Farrell St, San Francisco, CA 94102.
333 O'Farrell St (Map)
San Francisco, California 94102
(415) 771-1400
 
Reservations must be made by September 5, 2023, in order to receive the Seminar room rate, available until the GBW room block is filled. All rooms are subject to applicable state and local taxes of 8.625%, as well as a 16.95% hotel occupancy tax. Parking is available at the Hotel for $75 daily."
Hilton San Francisco Union Square