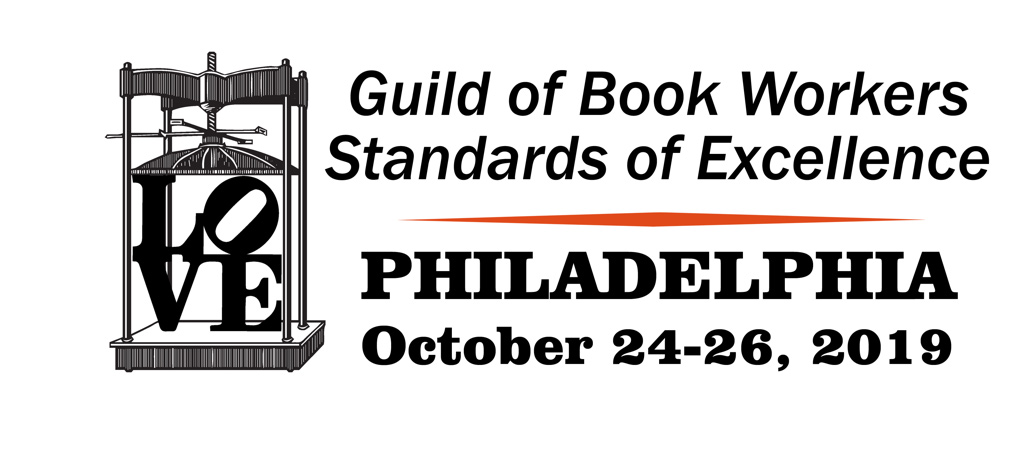 The Seminar on Standards of Excellence in Hand Bookbinding is the annual Guild of Book Workers conference. Held annually at a different location around the country, participants attend presentations by leading experts in the fields related to the book and paper arts. Tours of binderies, conservation facilities, rare book libraries and papermaking establishments are regularly arranged in conjunction with the event. A list of past presentations is available on the History of Standards page. Additionally, many Seminar presentations are videotaped and made available to members and for purchase. The Guild's Annual Meeting is held in conjunction with the seminar. Many well known Vendors also attend the conference and offer high quality tools and supplies for sale throughout the event. The vendor room is open to the public.
Why should you attend?
Hear what our members have to say about the value of the conference in this video.
For more information about the Standards of Excellence Seminar, contact MP Bogan, Standards Committee Chair.
---
Registration
Registration is limited to 150 people. The deadline to register is September 15, 2019, or until the conference is filled. Online registration is available and encouraged. If you are paying with a credit card, you must use the online registration form.
Attendees Registration Now Closed
Registration Rates:
| | | | |
| --- | --- | --- | --- |
| Member | (Early Rate) | June 1 - July 31 | $295 |
|   |   | Aug. 1 - Sept. 15 | $365 |
| Non-Member | (Early Rate) | June 1 - July 31 | $375 |
|   |   | Aug. 1 - Sept. 15 | $445 |
| Student |   |   | $225 |
All questions regarding registration should be directed to Laura Bedford, Treasurer. All fees listed on the registration form are in US dollars. There is a cancellation fee of 10% of the Registration Fee up to 30 days before the Seminar. No refunds are given for cancellations made within the 30 days prior to the conference. Cancellation fees do not apply to scholarship applicants who do not receive an award and are unable to attend without financial assistance. Registrations may not be shared and are non-transferable.
---
Scholarships
Scholarships are available to attend the Standards of Excellence in Hand Bookbinding Seminar to people for whom attendance would create a financial hardship. Scholarships are available for both student and regular members. An applicant must be a member at the time of application (sign up here). The scholarship consists of a waiver of registration fees to the Seminar, lodging costs for four nights (Wednesday through Saturday) at the conference hotel and the banquet. Hotel parking, phone calls, movie rentals, or any other room service are not included.The application process opens May 15. The deadline for application is July 8. Please direct questions to Brien Beidler at vicepresident@guildofbookworkers.org. The GBW Treasurer will reserve a room for each recipient at the Loews Hotel. Recipients are responsible for making their own travel plans. After scholarships are awarded, the GBW Treasurer will contact recipients to discuss lodging arrangements. Recipients may be asked to help with newsletter coverage and/or assist with other tasks during the Seminar.
Applications must be received by July 8, 2019.
The Scholarship Committee will inform applicants of their decision before the early bird registration deadline on July 31.
Address questions to Brien Beidler, Scholarship Committee.
---
Schedule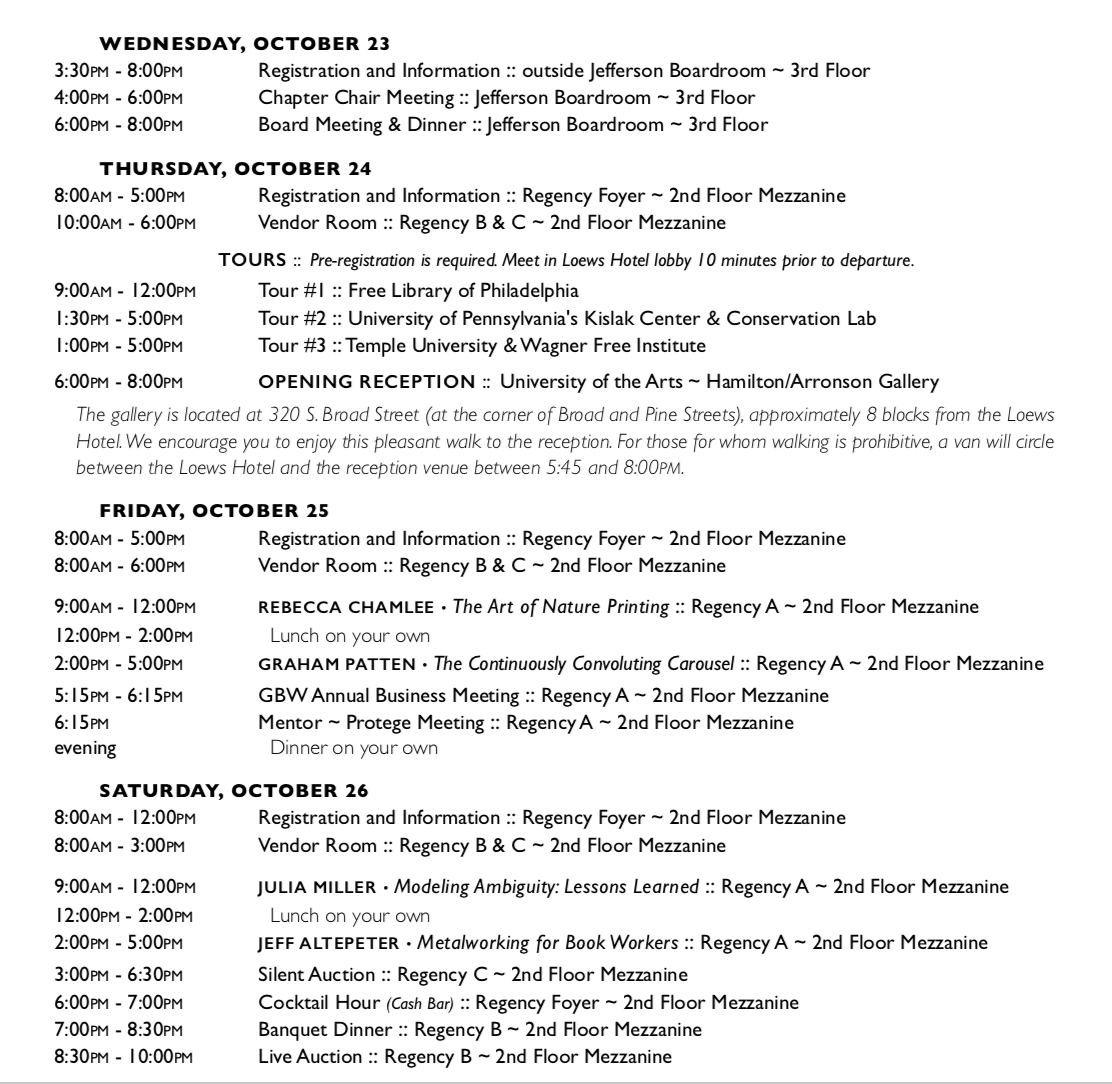 ---
Mentor-Protege Happy Hour
The importance of connecting people with different levels of experience is perhaps the most important way to maintain a high standard of craft and a meaningful community. Many of us could not have gotten where we are had we not met someone early on who was willing to share their knowledge.
This year in Philadelphia we plan on holding an informal mentor-protege happy hour in order to facilitate this type of encounter. Above all, it is hoped that this event will help to connect people at different places in their careers, and will spur on a longer and more meaningful relationship between them.
This year's event will be held in the Loew's Hotel on Friday at 6:15pm, immediately following the Business Meeting (Regancy A 2nd floor Mezzanine). A cash bar will be provided.
---
Tours
TOUR 1: WALKING TOUR
THE FREE LIBRARY OF PHILADELPHIA
9:00AM to 12:00PM, $15 (tour limited to 25) 
Visit the Free Library of Philadelphia in its grand Beaux-Arts building located in the cultural heart of the city! Tour participants will view the exhibition Our Five Senses and hear a gallery talk given by Chris Brown, Curator of Children's Literature (and GBW member). Other exhibits will be on display in the Library's Rare Book Department for guests to see. Following the gallery talk, participants will head to the Prints and Pictures Department and have the opportunity to see selections from the Library's artists' book collection on display and "up close" with curator Laura Stroffolino. A special exhibition on children's books by the GBW Delaware Valley Chapter will also be on view. Don't miss the chance to see this treasure of Philadelphia and walk through one of the city's historic and cultural neighborhoods! Please note that this is a walking tour! The Free Library is less than a mile from the hotel—an approximate 20-minute walk one-way. Members of the local host committee will lead participants from the Loews Hotel to the Free Library and back, although participants may decide to stop for lunch on their own after the tour at one of the many restaurants along the way. Also, please note that the Barnes Foundation, one of Philadelphia's premiere museums, is directly across the street from the Free Library, and participants could complete their day with a visit to the museum after lunch. A large Whole Foods nearby offers multiple lunch options, including outposts of popular Philadelphia restaurants.
TOUR 2 : WALKING AND LOCAL TRANSIT TOUR
UNIVERSITY OF PENNSYLVANIA - GOLDSTEIN FAMILY GALLERY, KISLAK CENTER for SPECIAL COLLECTIONS & the STEVEN MILLER CONSERVATION LABORATORY
1:30PM to 5:00PM, $15 (tour limited to 30)
The Kislak Center for Special Collections, Rare Books and Manuscripts at the University of Pennsylvania holds more than 350,000 books and 15,000 linear feet of manuscripts in a wide range of disciplines and formats, from medieval manuscripts to 21st century artists' books, state-of-the-art meeting rooms and the gallery. It is also home to the Steven Miller Conservation Lab, UPenn's newly constructed conservation facility. Join us for an in-depth tour of the exhibition The Bibliophile as Bookbinder: The Angling Bind-ngs of S.A. Neff, Jr. currently on exhibit in the Goldstein Family Gallery. Mr. Neff, an autodidact by nature, transitioned from a career in graphic design to bookbinding in the early 1980s. His fine bindings have been exhibited in the U.S. and abroad. Mr. Neff will give a talk about his bindings and the exhibit at the Kislak Center. We will also visit the Steven Miller Conservation Lab, which opened in 2016. The lab is a core part of the Kislak Center's robust mandate to facilitate research using primary-source materials and is tasked with the long-term care and stabilization of the Center's widely varied collections. In addition to performing stabilization treatment and creating protective housings, conservation staff works the exhibitions department to ensure the well being of the objects displayed throughout the Penn Libraries. Sarah Reidell, Head of Conservation, will be on hand to meet tour participants and talk about the work of the lab. Please note that this is a walking and local transit system tour! Participants will travel from the Loews Hotel to UPenn via the subway. Members of the local host committee will lead participants from the hotel to the tour destination and back. A SEPTA day pass will be provided to each participant and is included in the tour cost.
TOUR 3: BUS TOUR
CHARLES LIBRARY at TEMPLE UNIVERSITY & THE WAGNER FREE INSTITUTE OF SCIENCE
1:00PM to 5:00PM, $20 (tour limited to 23)
Participants will visit Temple University's newly constructed Charles Library, designed by world-renowned architectural firm Snøhetta. The library is envisioned as an example of 21st century thinking of what a university library can be! Snøhetta's design "challenges the traditional typology of the research library solely as a repository for books and archives, and instead provides a diversity of spaces that will spark chance encounters, enable collaboration, and encourage knowledge-sharing amongst its users." Kimberly Tully, Curator of Rare Books, will meet with tour participants to show some of these innovative library features and view items from Temple's extensive and excellent artists' book collection. The tour will then travel by bus to The Wagner Free Institute of Science where the group will divide into two. Each group will visit the Wagner Institute's 19th century exhibit hall—soaring three-story space—that houses an extraordinary collection of natural history specimens. The collections are displayed in cherry-wood and glass cabinets dating from the 1880s and maintain their original "systematic" scheme, providing a rare view of a Victorian science museum—AND—the Library, where Lynn Dorwaldt, Special Collections Librarian, will show a selection of books. This extensive library contains primarily scientific works dating from the late 17th to the early 20th century and covers the natural and physical sciences, education, medicine, archaeol-ogy and anthropology, the pseudo-sciences, instrument building, and engineering. Please note that this is a "bus" tour! Entrance fee to the Wagner Free Institute is included in the tour cost.
---
Presentations and Presenters
REBECCA CHAMLEE
The Art Of Nature Printing
[Friday Morning]
Directly printing forms found in the natural world has been used for centuries by scientists, naturalists and artists to preserve the ephemeral beauty of nature. This presentation explores a variety of processes to create prints and book content on paper by direct impressions of fresh and dried plant materials. Techniques such as traditional Japanese nature printing and other hand printing approaches reproduce plants with intricate detail. The demonstration will also provide a basic understanding of the exciting and unpredictable botanical contact printing process using heat and natural dyes with foraged leaves and flowers.
Rebecca Chamlee is a book artist, printer, writer and bookbinder who has published letterpress printed, limited-edition fine press and artist's books under the imprint of Pie In The Sky Press since 1986. Her work is in prominent special and private collections throughout the U.S. and has been exhibited widely. As a self-taught naturalist, Rebecca's artist's books examine the intersection of her artistic and scientific interests by collecting and cataloging the natural world. She is inspired to record, interpret and celebrate nature. Rebecca is an associate professor at Otis College of Art and Design in Los Angeles where she teaches bookbinding, letterpress printing and artists' book classes and heads the Book Arts minor program. She also holds workshops at her studio and book arts centers throughout the country.
GRAHAM PATTEN
The Continuously Convoluting Carousel
[Friday Afternoon]
Graham will be presenting a new book structure, a Jacob's Ladder Carousel or Continuously Convoluting Carousel. This book is the result of experimentation with structure, movement, and fold, and the idea of a book that can open in multiple directions. This multiplex carousel can be inverted on itself indefinitely, revealing a sequence of four different hidden openings or displays. A number of versions of the structure will be explored and demonstrated in this presentation, playing with variation in the dimensions, shapes, and materials of the different structural elements.
Graham Patten is a 2014 graduate of the Buffalo State College master's program in art conservation, and is currently the Book Conservator at the Boston Athenaeum. He served for three years as an Assistant Book Conservator at the Northeast Document Conservation Center (NEDCC). He was the 2014–2016 Conservation Fellow at Northwestern University Library and was previously a conservation intern at the Harvard University Weissman Preservation Center. In his artistic pursuits, Graham often focuses on dynamic sculptural and mechanical elements, and enjoys merging these features with innovative book structures. He received the 2016 Meggendorfer award for Best Pop-up Artist Book for his book "Call Me Trimtab". His micro-miniature bound illuminated manuscript "Earth Dreams" won Best in Show for the GBW Delaware Valley Chapter's 2014 exhibition "Three Inches or Less".
JULIA MILLER
Modeling Ambiguity: Lessons Learned
[Saturday Morning]
The presentation will be two-tiered: images of selected historical bindings dating primarily from the first millennium of the codex paired with the display and discussion of models of the same codices created by the presenter. Ambiguity enters the arena every time we study a historical binding type; when we study fragmented early codices, relying on the early scholarship, if any, that describes them, ambiguity becomes relentless and confusion can overwhelm. On the other hand, the rewards are many, and we learn how to recognize, interpret and value what we are seeing –with connections forward throughout the history of hand bookbinding. The final portion of the presentation will focus on the idea of identifying "signature" binding structures found on some of the earliest surviving codices–"signatures" that can be looked for/compared as more early codices and binding fragments turn up in the future, when they emerge, as they surely will, from private collections, institutional storerooms, and the desert.
Julia Miller came to book arts and book conservation from studying history as an undergraduate and graduate student –and her life has returned full circle with her work on aspects of the history of bookbinding–no end in sight, no single goal, just the joy of the ah ha! moment, and the connections made. Her research career was ignited by curating the exhibit "Suave Mechanicals: Early to Modern Binding Styles" at the University of Michigan in 2003, and by receiving a Kress Foundation Fellowship in 2008 and a Mellon Fellowship from The Library Company in 2010. Julia was honored to receive the GBW Laura Young Award in 2014. Her writing includes Books Will Speak Plain: A Handbook for Identifying and Describing Historical Bindings (2010) and Meeting by Accident – Selected Historical Bindings (2018) and she is series editor for Suave Mechanicals: Essays on the History of Bookbinding, all published by The Legacy Press. Julia has taught and lectured for many years around the U.S., Canada, and Italy, and is teaching this next year at the University of Cincinnati, at PBI, and at the Centro del bel Libro (Ascona); her bench workshops focus on aspects of early codex binding drawn from her continuing research in that area.
JEFF ALTEPETER
Metalworking for Book Workers
[Saturday Afternoon]
This presentation will address some fundamental concepts of metalworking in an effort to demystify metals for the book worker. We will examine basic fabrication tools and techniques for the production of clasps, furniture, and some simple tools. Non-ferrous metals, particularly copper alloys, are no more challenging than the leather, parchment and other materials we already use regularly. These techniques present opportunities for individual expression, creative control and immediacy.
Jeffrey Altepeter is the head of the bookbinding department at North Bennet Street School and a 1999 graduate of the program. Jeff also received a diploma for Fine Binding from the American Academy of Bookbinding in 2003. Jeff has worked at Harcourt Bindery, Harvard University, and as a self employed bookbinder. In his own work he enjoys experimenting with historical binding structures and materials.
---
Hotel and Travel Information
The conference hotel is The Loews Philadelphia Hotel.
1200 Market Street (Map)
Philadelphia, PA 19107
 
Phone: (888)-575-6397
Book your online reservation here.
The Guild room rate is $199 nightly for a single or double occupancy room, $224.00 for a triple, and $249.00 for a quad for the dates October 24-29, 2019. Room tax (subject to change) is 16.25%. Reservations must be made by September 24, 2019, in order to receive the Seminar room rate, available until the GBW room block is filled.
For Reservations: Call The Loews Philadelphia Hotel toll free at (866)-907-1923 or book online. See Newsletter or Registration Confirmation Email for URL.
Valet parking available at the Hotel for $52 daily, including tax.
Guest rooms are limited — and for some days sold out — at the Loews Hotel Philadelphia.
Two courtesy room blocks for the Guild of Book Workers is now available.
Home2 Suites by Hilton Philadelphia — Convention Center, 1200 Arch Street, Philadelphia, PA 19107
A rate of $239.00 for a Standard Studio Suite is available between October 22-27, 2019.
Please use the following Booking Link to make your reservation
Hilton Garden Inn — Philadelphia Center City
1100 Arch Street, Philadelphia, PA 19107
A rate of $239.00 for a Standard Studio Suite is available between October 22-27, 2019.
Please use the following Booking Link to make your reservation:
The City of Philadelphia
Philadelphia—City of Brotherly Love—is filled with history, art and food. We recommend that you check out Visit Philadelphia for suggestions of local attractions and ways to get around the city. Daytime temperatures can be in the low to mid 60s (17-18C) with overnight lows in the mid to upper 40sF (8-9C). October weather can range from mild to chilly so a sweater or jacket is advised for those chilly days or nights. Because some of the tours are "on foot" and because there are many fine restaurants and cultural institutions within walking distance, you may want to bring an umbrella in case of drizzle or rain! The Loews Hotel is located directly across from Reading Terminal Market—home to many food vendors and eateries—and within walking distance of Philadelphia's busy, vibrant Center City neighborhood filled with lots of interesting shops and restaurants. Some local favorites include: Barbuzzo, Double Knot, Sampan, Little Nonna's, Franky Bradley's, IndeBlue, Bud and Marilyns, Kinme, Amis, Lolita, Raw, and El Vez!